YEARS IN THE MAKING--THE ONE, THE ONLY...THE ATOMIC LEGION!!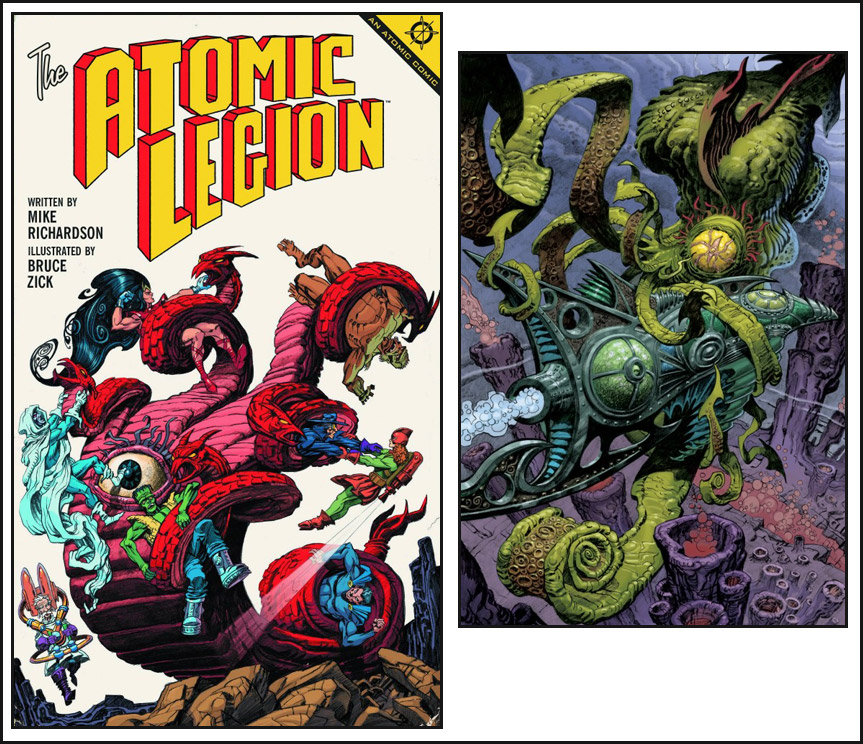 On April 30, the extra large deluxe hard cover graphic novel from Dark Horse Comic will premiere at 250 pages!! It's an all ages family book full of fun, adventure, classic heroes, great villains, and just about all of the pop culture sci-fi and fantasy icons from the 30's, 40's, and 50's that you can shake a stick at. In other words, it's the kind of story they used to create many years ago that you wish they would do again. And now they have!



Here's more art from the book.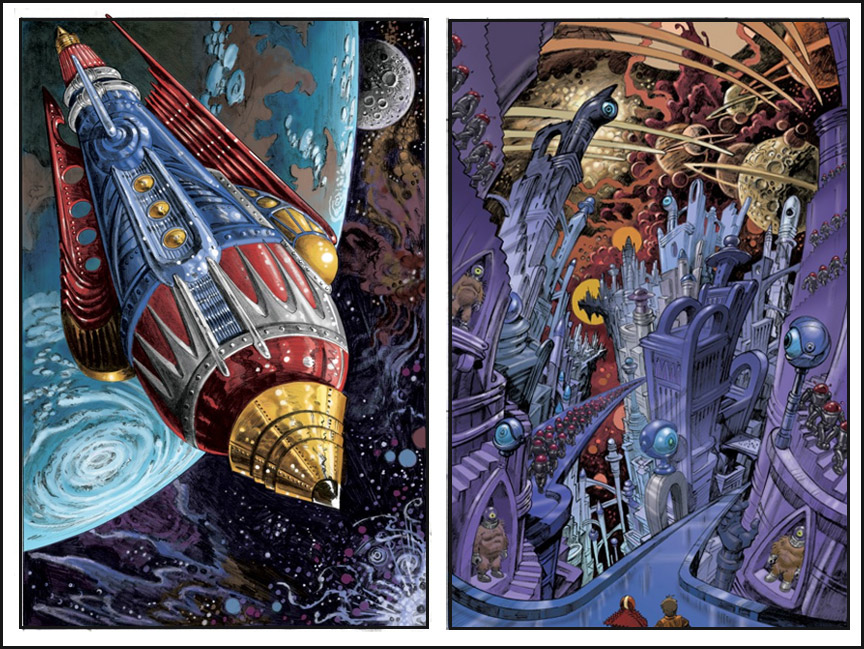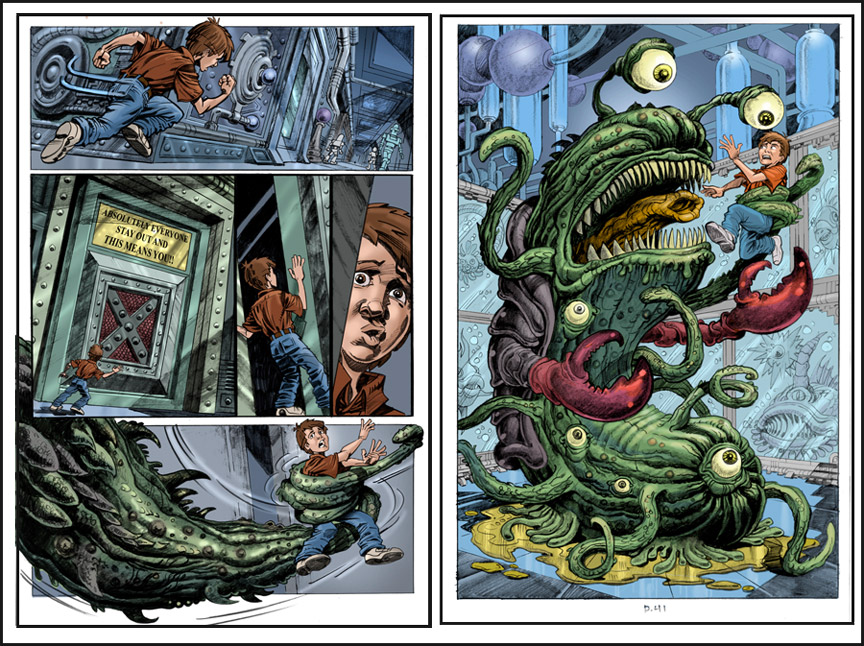 The Premiere of MANDALA.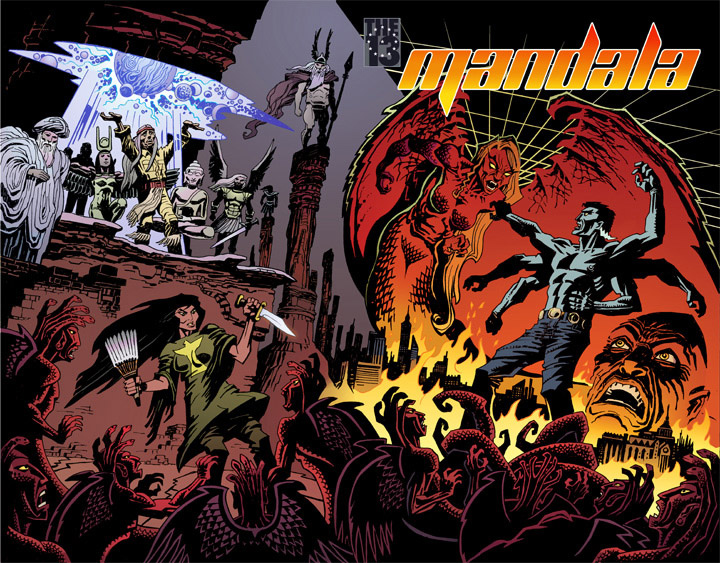 Mandala is a gigantic Original Graphic Novel from Dark Horse Comics that will be out in May 14, 2014. But the first chapter is available now at Dark Horse Digital, and it's also available in print form at Enter The Mandala at Facebook. If you want your mind blown and join a worthy cause at the same time, check us out at Go to Enter The Mandala


Here's more art from Mandala.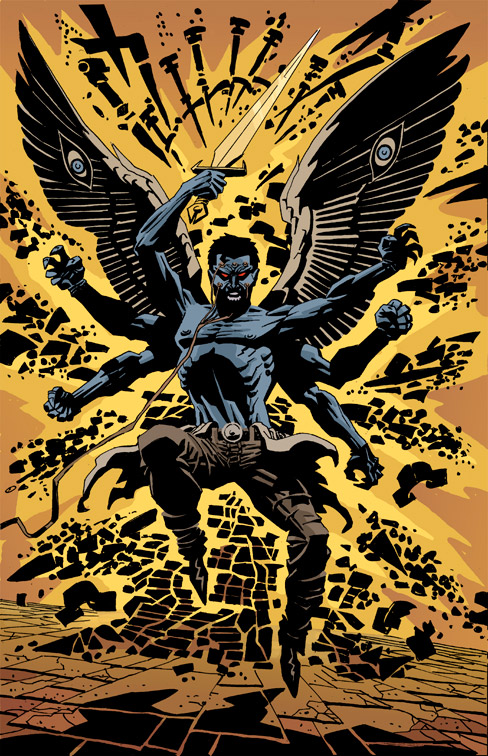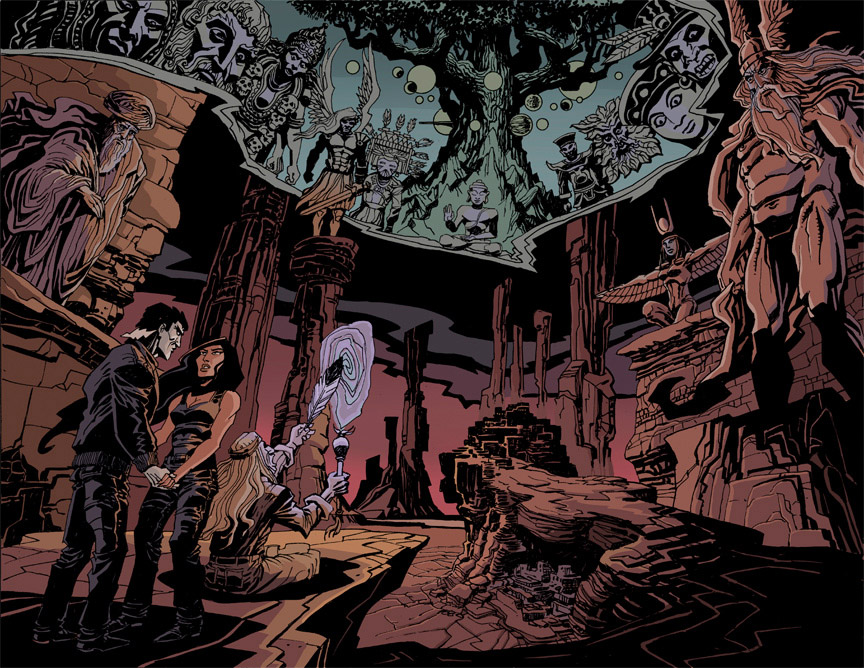 So, remember, if you want to be part of the 144000 that will change the world, join in at Facebook and be part of a new movement that is growing at lightning speed. Be bold, be brave, and...Enter The Mandala.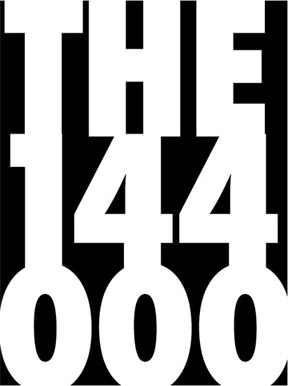 THE BRAMBLE
The Bramble, illustrated by Bruce Zick and written by Lee Nordling, is now at your local bookstores or available at Amazon. Here's a brief description: In this beautifully illustrated and mostly wordless book, Cameron isn't small, but he's not exactly big. He's not slow, but he's also not quick. He wants friends, but it never quite seems to work out. And in a game of tag, he's going to end up "it." Or at least that's how things are on this side of the Bramble. On the other side, it's a different story. On the other side of the Bramble, something extraordinary can happen, something that changes everything.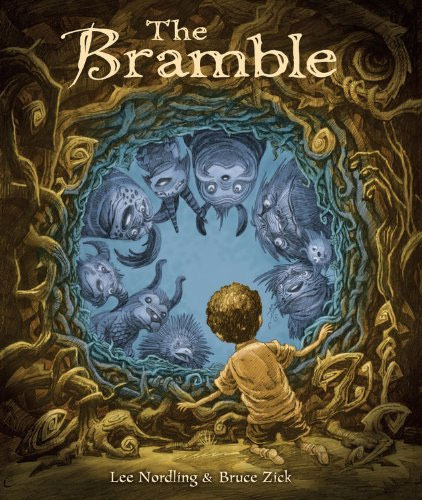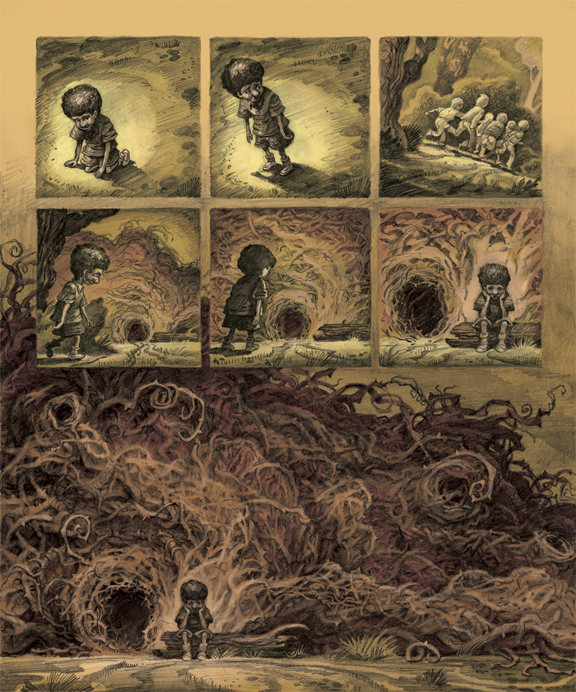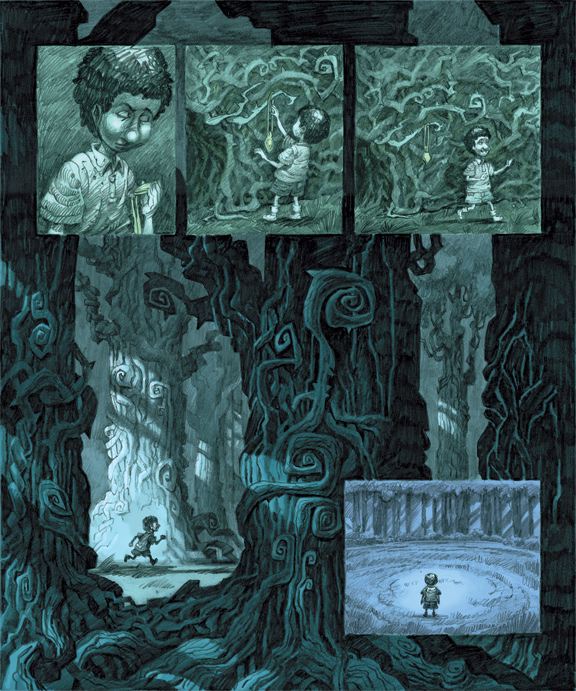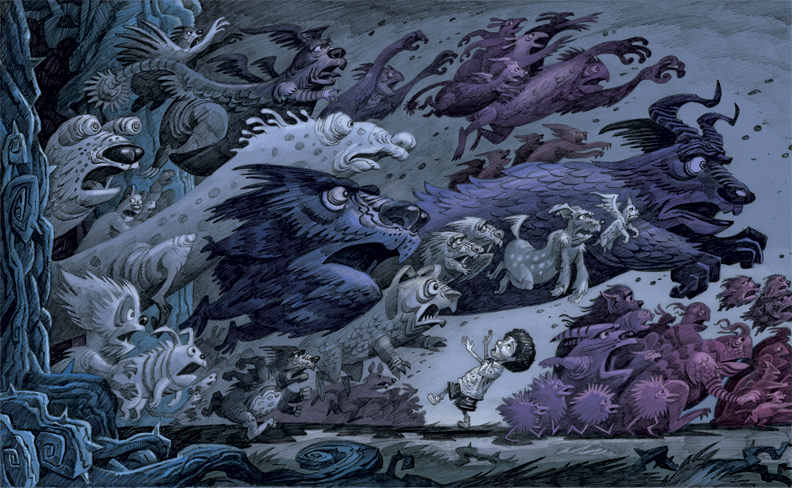 This just in!! The Bramble has won the Moonbeam Children's Book Award for best picture book in the 4-8 year old category.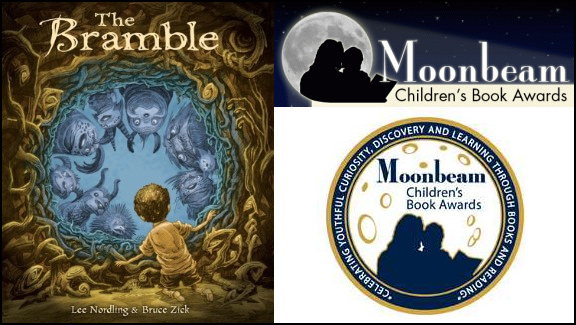 Coming Soon: THE ARTWORK OF FROZEN

Meanwhile, here is artwork from Blue Sky's new movie, EPIC


We worked on Epic very early on, providing concept art for the miniature world the characters lived in. The story changed dramatically over the years and most of the artwork was not used, which happens all of the time. Nevertheless, the images help the team of filmakers understand what they will want and we're glad to be a part of such a great collaborative process.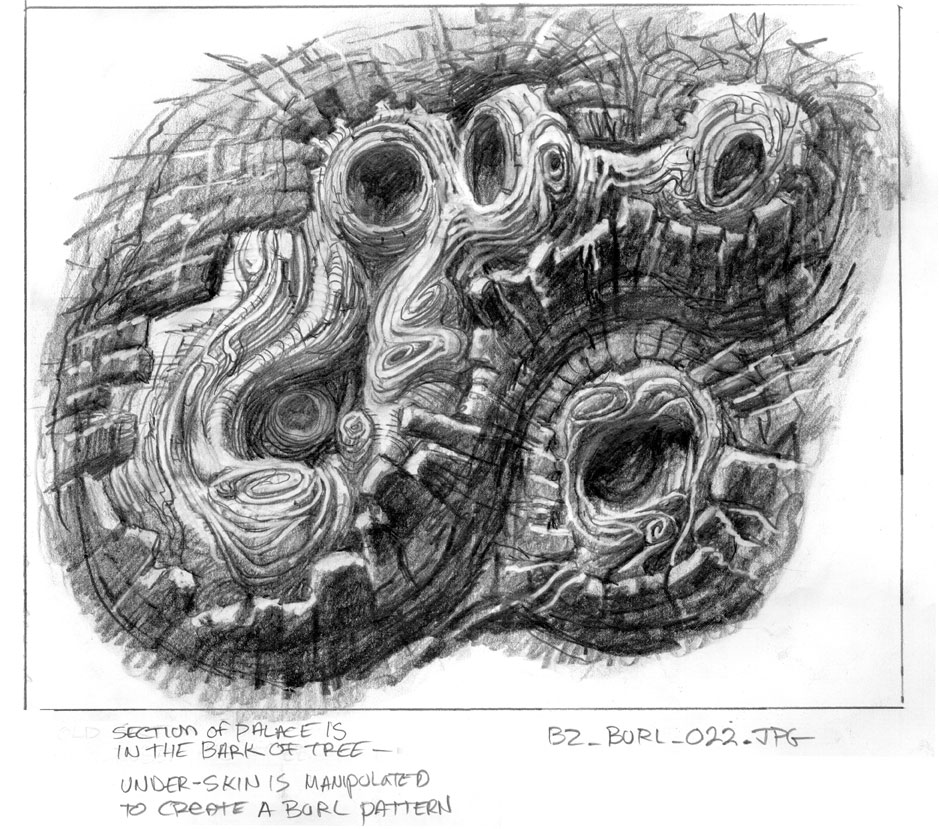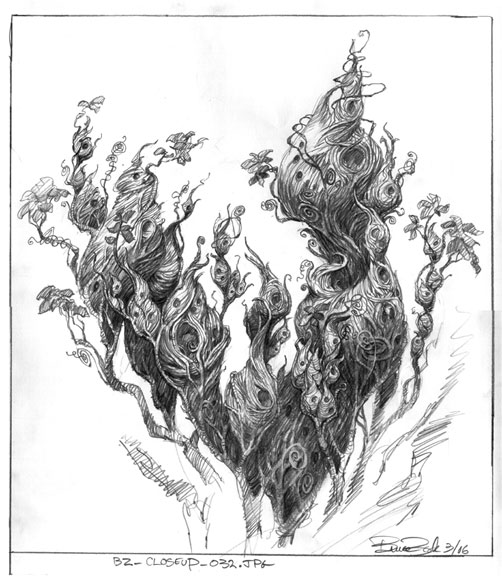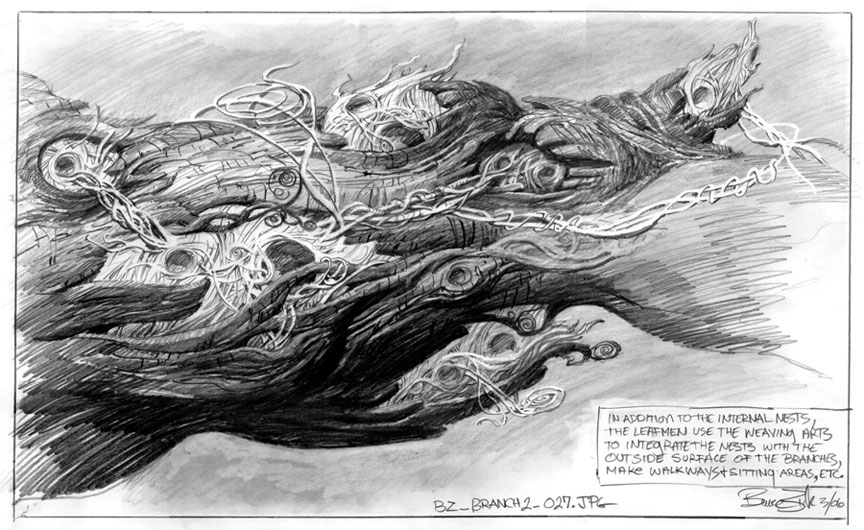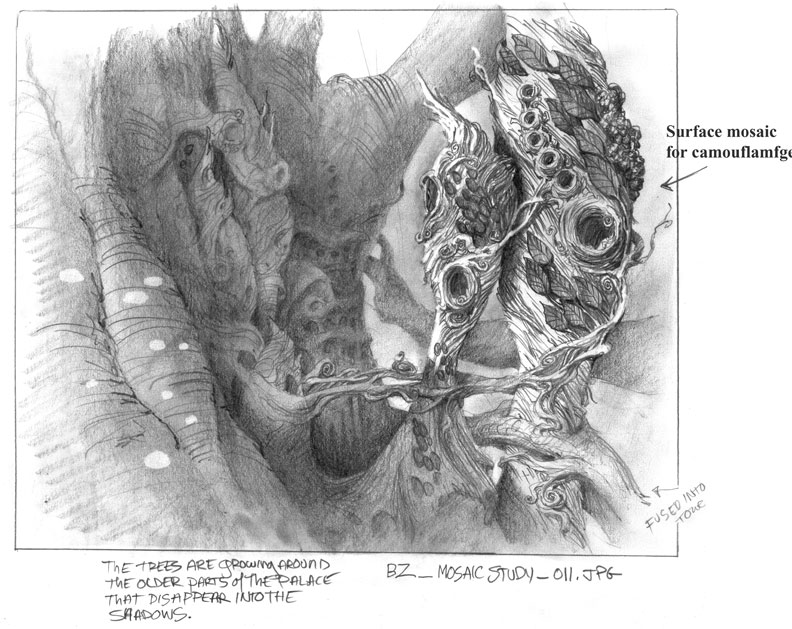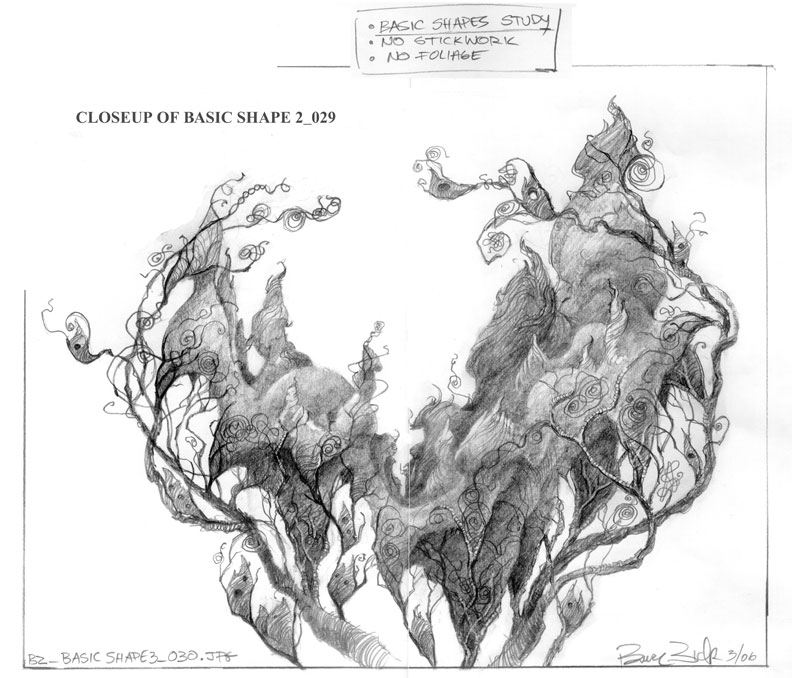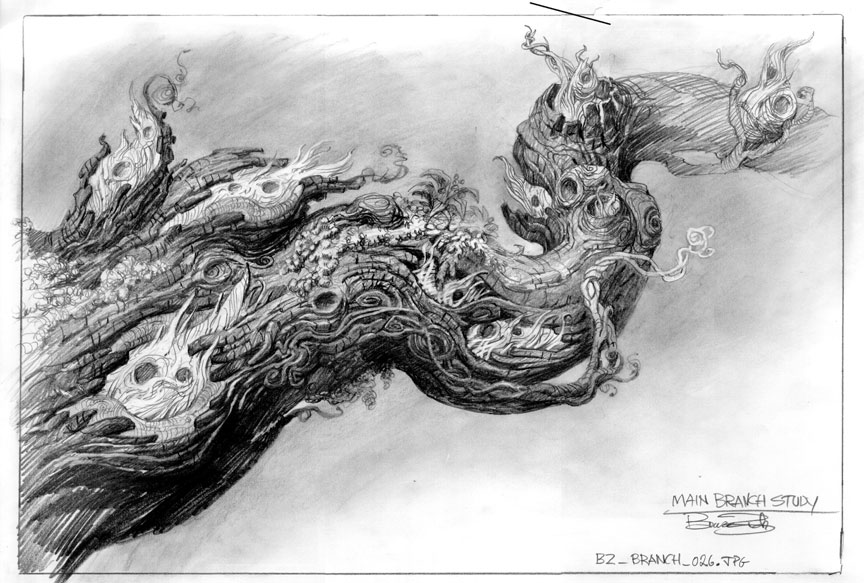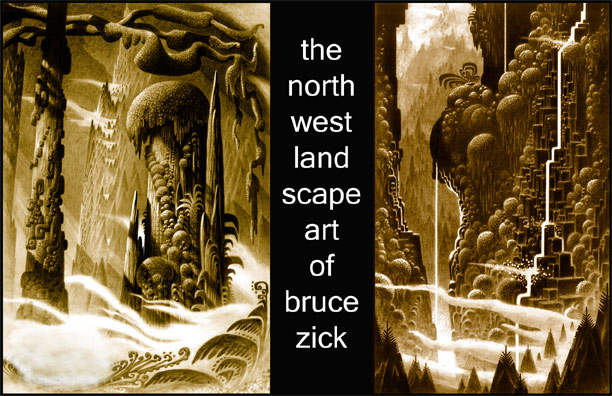 For the first time, we are offering limited edition fine art prints for sale at our new fine art website: www/northwestlandscape art.com
Because of underwhelming popular demand, we present--
THE IMAGE OF THE WEEK.

So many, well, three actually, have asked to see more or our artwork going back over the decades, and we thought it was high time to make it so. We dig into our cavernous archives and untreasure and display images of varied sorts, whether a cartoon, a Disney or Pixar or Dreamworks or Marvel or Darkhorse illustration, a magazine illustration, a serious fine art painting--anything and everything is game.


RECENTLY-- TINKERBELL AND THE SECRET OF THE WINGS.
This direct to dvd movie takes place in a winter wonderland world, so the challenge was to design a variety of set locations made with snow and ice. This following image of frozen waterfall terraces is currently being used in Disney's advance promotion on the internet, so I thought we'd take a look at how the background was designed.
First--the final image as it appears on the internet.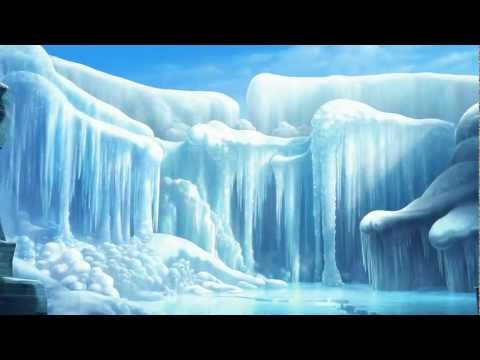 To create this image, we first submitted several rough sketches to establish a general range of possible ideas.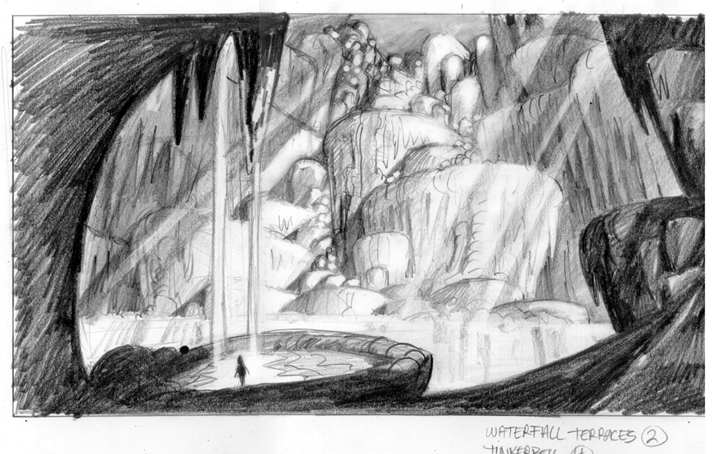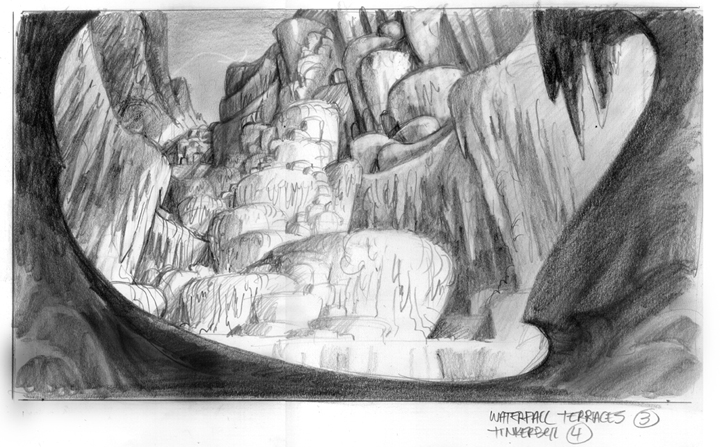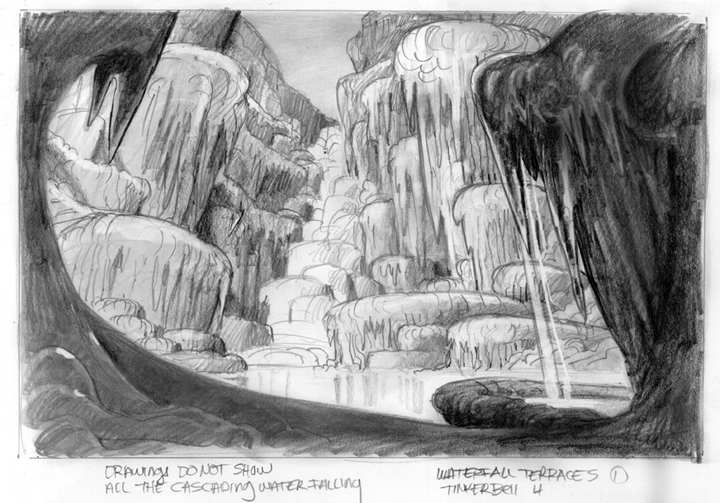 Then once the art director narrowed things down, I submitted two painted ideas.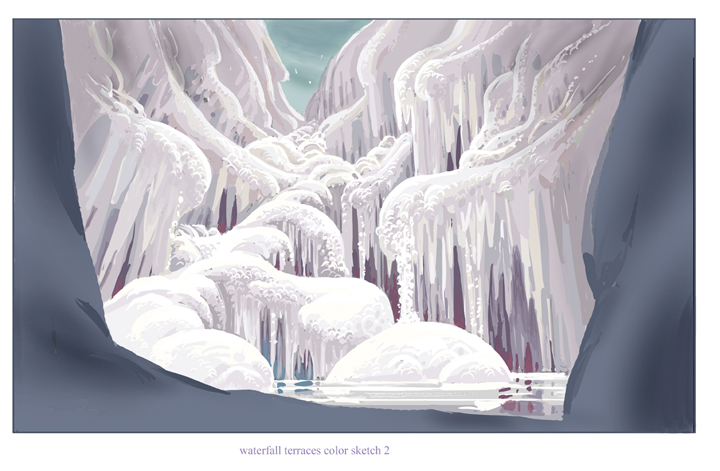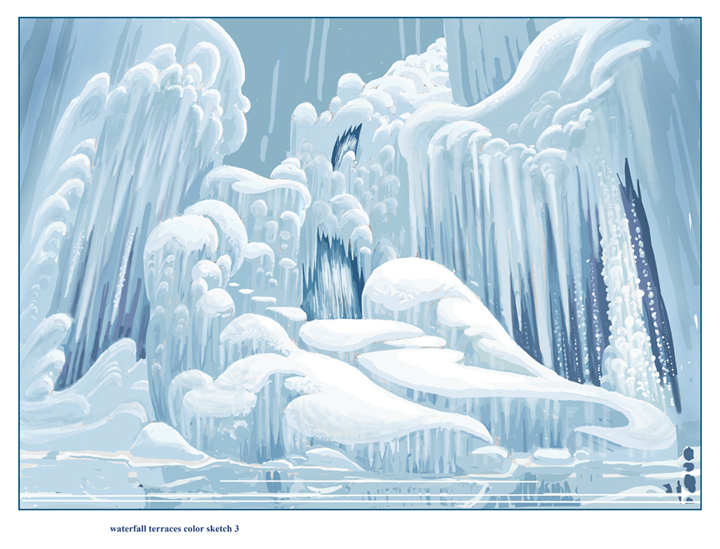 Then after more discussion, I did these final versions and the job was done.


Here is a closeup detail area.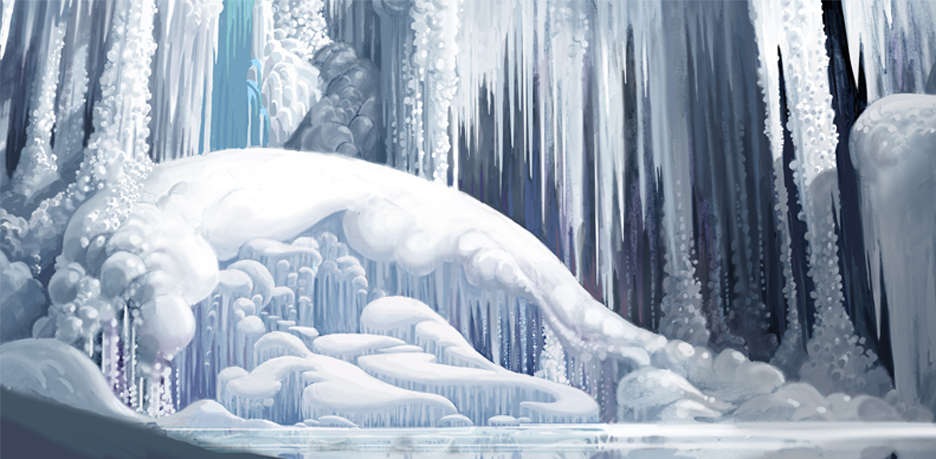 HOP!!
Another project that changed over time. Many of these ideas were incorporated into the final film version, others might appear in the sequel, who knows.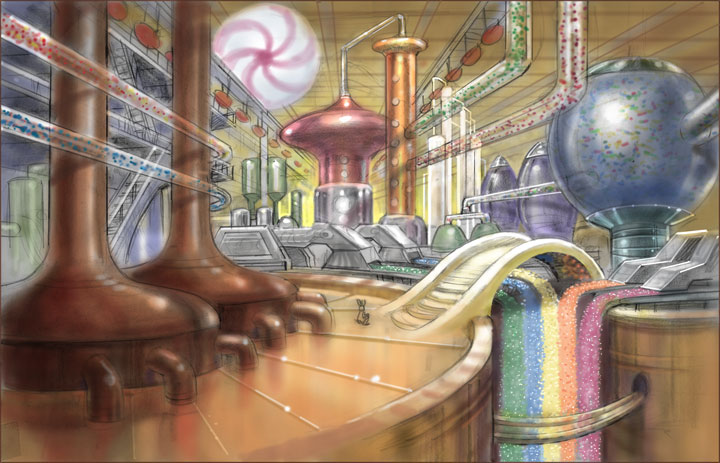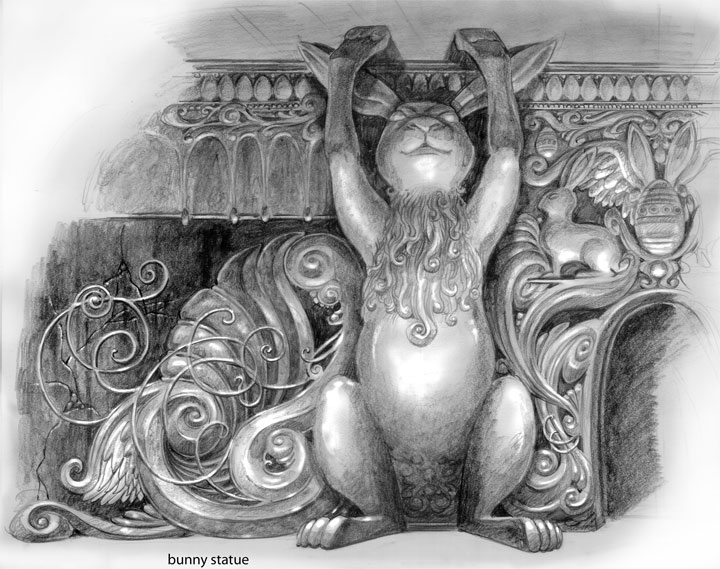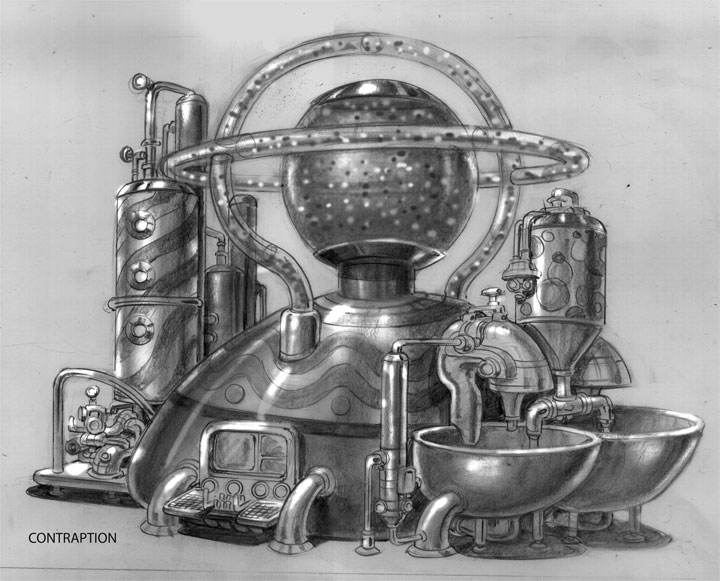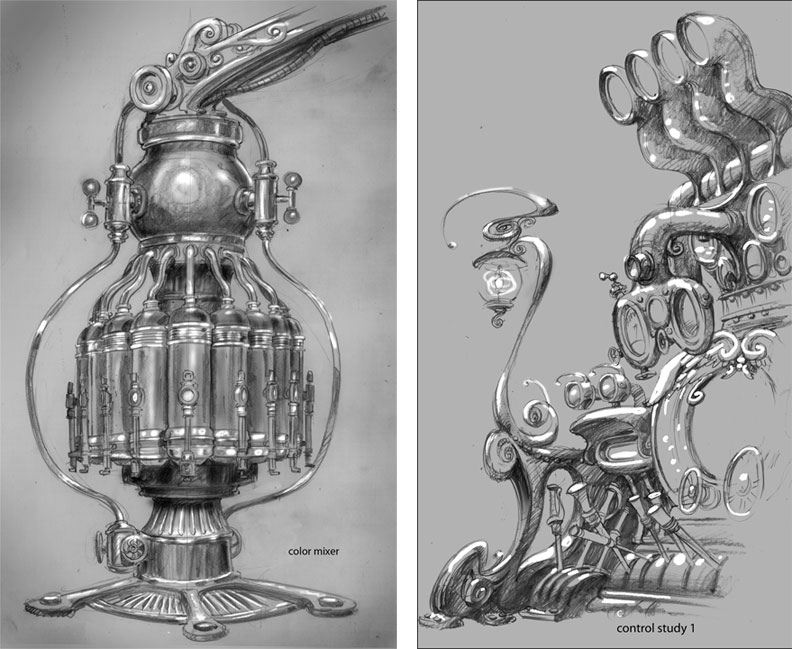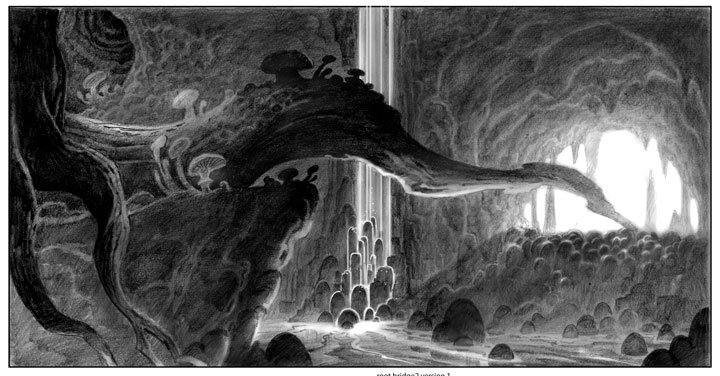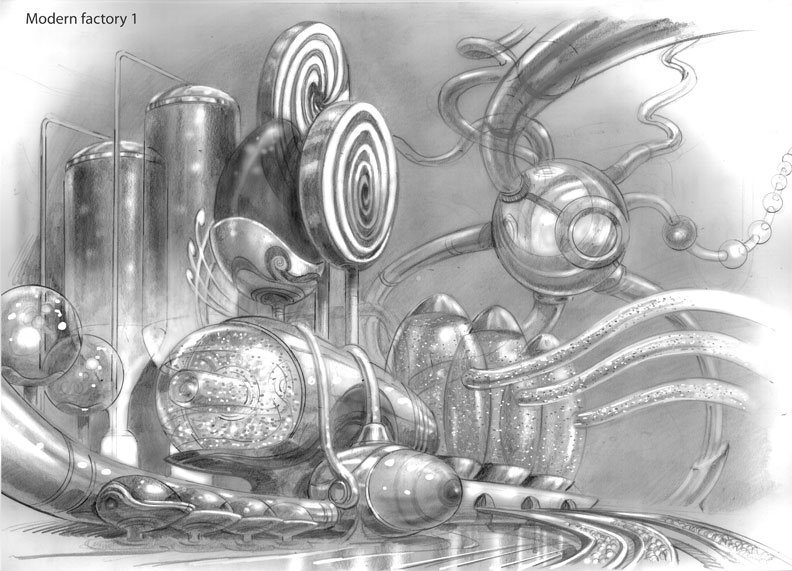 DISNEY'S TANGLED!!
I worked on this film at a very early stage where there was a much different storyline than the final movie. In these concept roughs, an evil tree spread its roots and marches across the forest.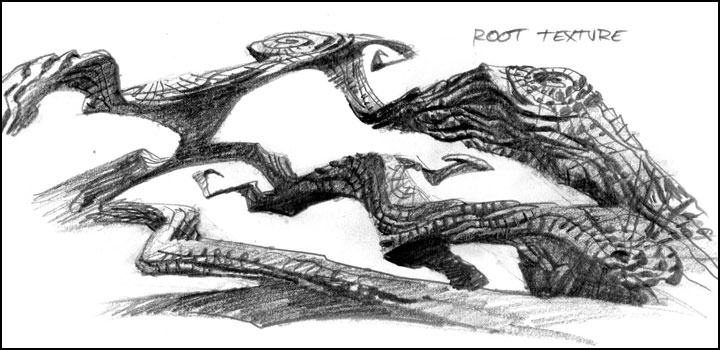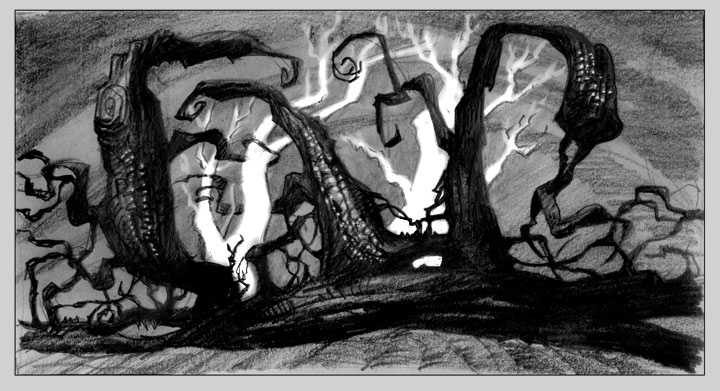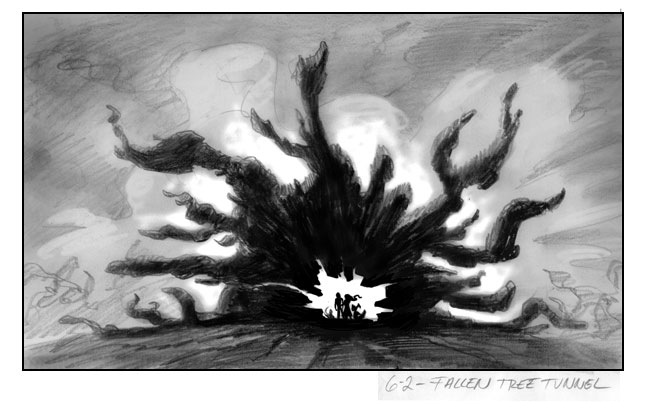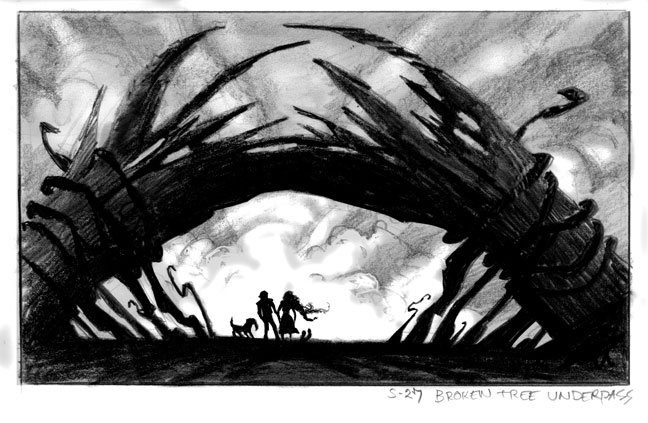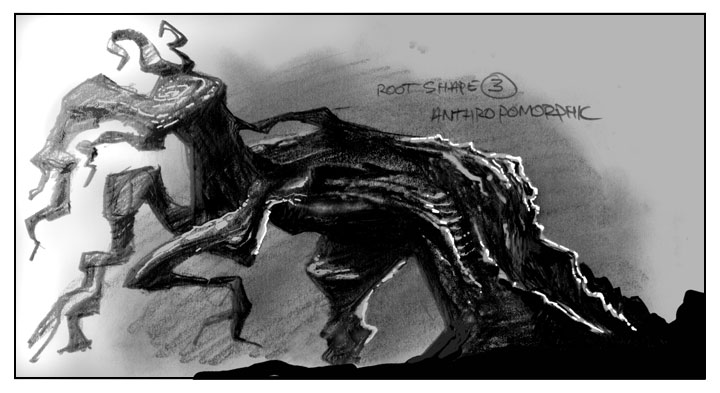 The next group of images below shows a scene in a grotto where Rapunzel is rescued from almost drowning. This scene was eventually thrown out.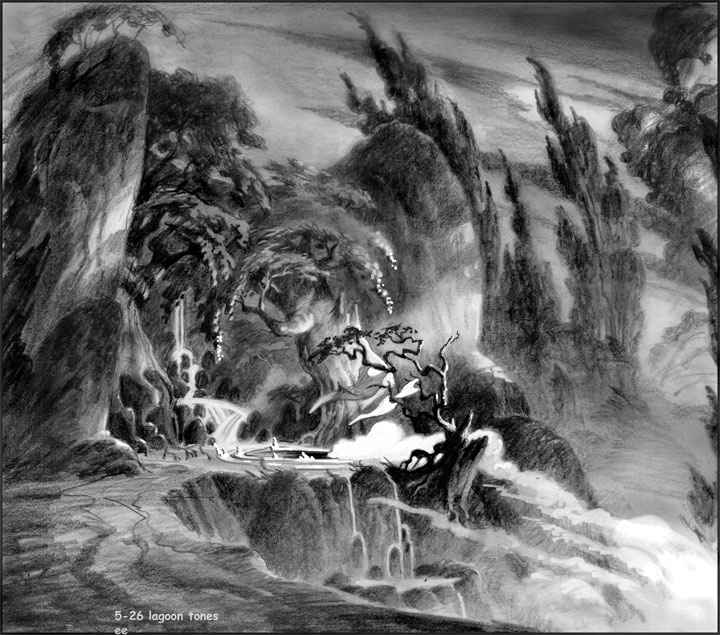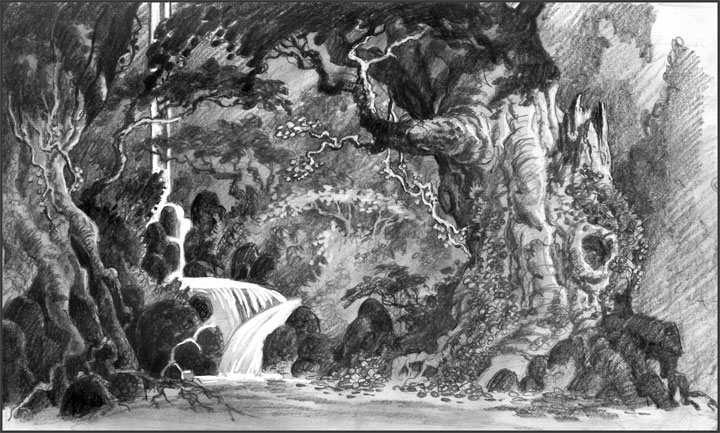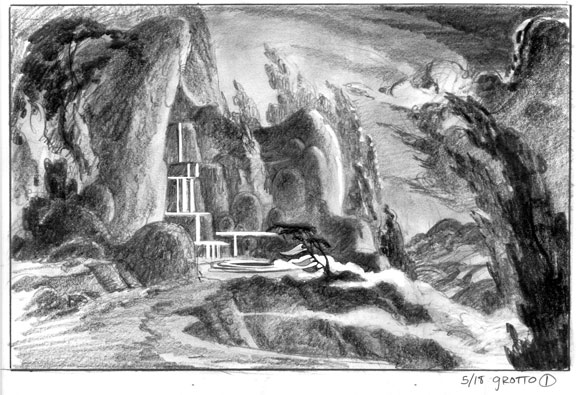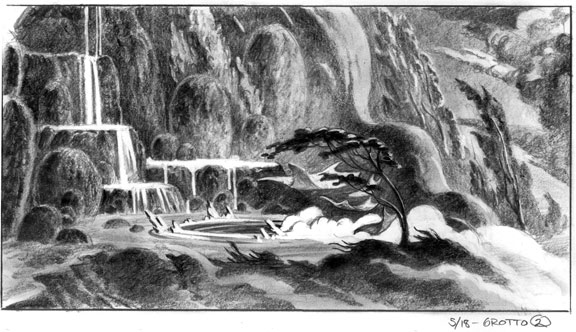 A secret Pigdog Productions special project we can't tell you any more about.
Click on images to see larger versions.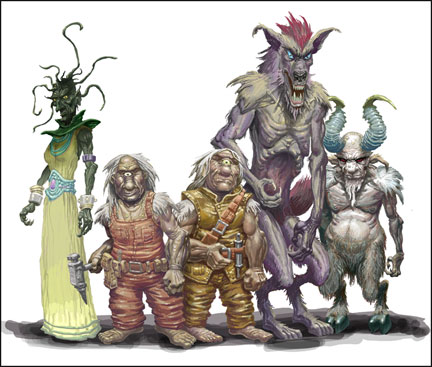 IMAGES FROM PIXAR'S NEW MOVIE--WALL-E!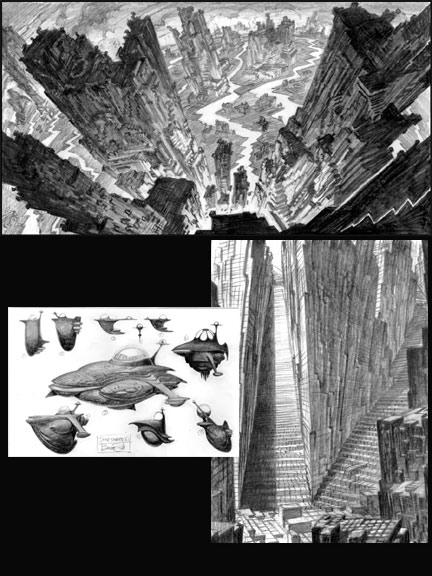 Newest conceptual art images from Pixar's new movie--Wall-E!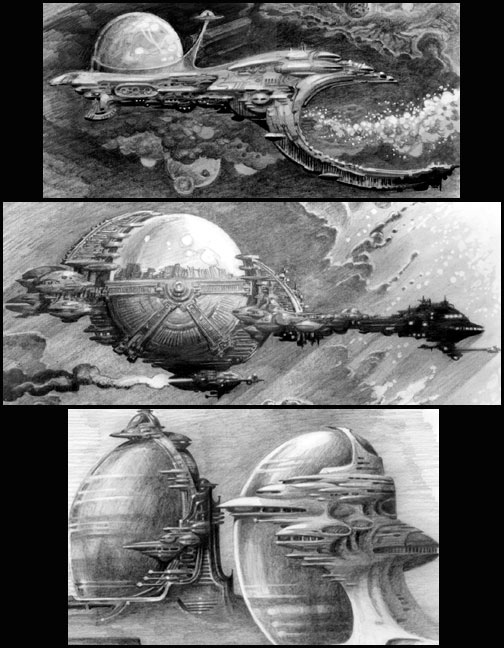 New conceptual art images from Pixar's new movie--Wall-E!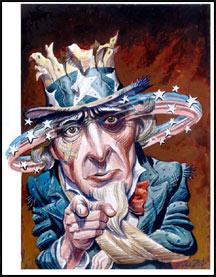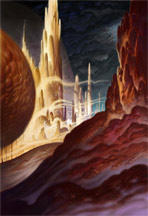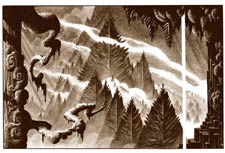 go to Image of the Week
THE ANUBIS TAPESTRY!


Pigdog Productions, in partnership with Komikwerks, has published a new illustrated novel called "The Anubis Tapestry", written and illustrated by Bruce Zick. It's on the shelves of most bookstores, or it can be ordered online.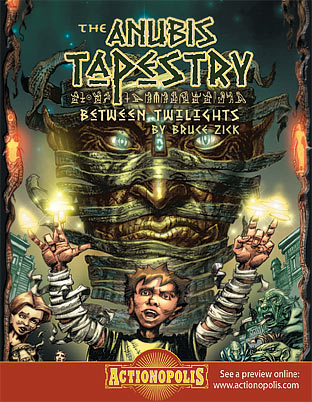 Intrigued? The story deals with a young lad who must become a mummy in order to rescue his father from the ancient Underworld. Along the way, we get involved with Mythxx creatures, a rivalry as old as time, horrific Goth-Beasts, and thirty Monsters guarding the thirty Portals of the domain of the dead, leading us to the Chamber of Anubis.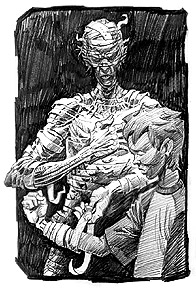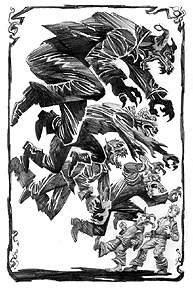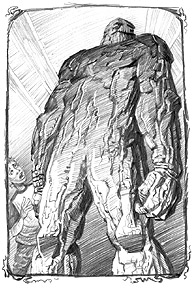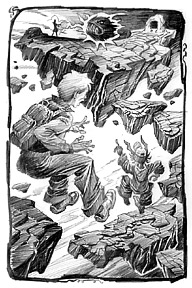 You can go to the Anubis Tapestry website to read about the book and also read a sample chapter. We recommend you also go to ACTIONOPOLIS, the home page for this and the other great books being published in this exciting new line of Action Books. Tell your friends, tell your significant others, even tell your analysts and physical therapists and acupuncturists. Don't let this just be our little secret!

So...uh...what does the UIDC mean?? It refers to that Colossus of Endeavor, the Giant Conglommeration of the Stars--THE UNIVERSAL INTERGALACTIC DISCOVERY CO., ltd.!!
This is, perhaps the greatest story ever told. Really. We mean it...and we never exaggerate!!!!!!!!!!!!!!!!!!!!!!!!!!!!!!! Close your eyes and imagine a story that dares to combine "Alice in Wonderland", Carl Sagan's "Cosmos", "A Hitchhiker's Guide to the Galaxy", and "Late Night with David Letterman", with a little George Orwell and Franz Kafka thrown in. Not to mention--"Catch 22". Ooops, we just mentioned it!!